Honeymoon stories – Part 1 – Thailand
On the 26th December 2004 following a night receiving the most loving and honouring marriage proposal, I was on the road with Dave to the Woodford festival when we turned on the radio and began to hear of the numbers in droves of deaths from the Tsunami. I had never felt so blessed or such an awareness of others suffering and experienced profound sadness.
Two weeks ago I renewed my 10 year vows and celebrated the works of a conscious marriage with my beloved husband David Kalmar followed by a second honeymoon, our first destination of which is Khao Lak.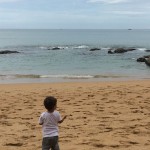 Last night I heard the strangest child's voice in the night after a day with a funny distracted mood following me around. I thought it was a resistance to the enclosed indulgent environment of the resort we are in. But today as we walked along the beach we came upon an honoring of those who were washed away on the shores we have been walking upon.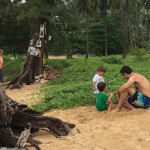 Pictures of babies the same age as ours lost by parents who were unable to help them who now have to grieve them. We didn't know back then one day we would be gifted with our sons and be in abundance whilst stepping on the very sands that held this trauma.
Again a veil lifts of my current moment. Khalil Gibran wrote 'sorrow is what carves the cup that holds our happiness'. Experiencing joy whilst staying present to (but not arrested by) this sorrow I experience the sweet spot which defines who I am today and what I value as gratitude. Lest we forget.
Written by: Monique Kalmar
Director – Psychology Pathways